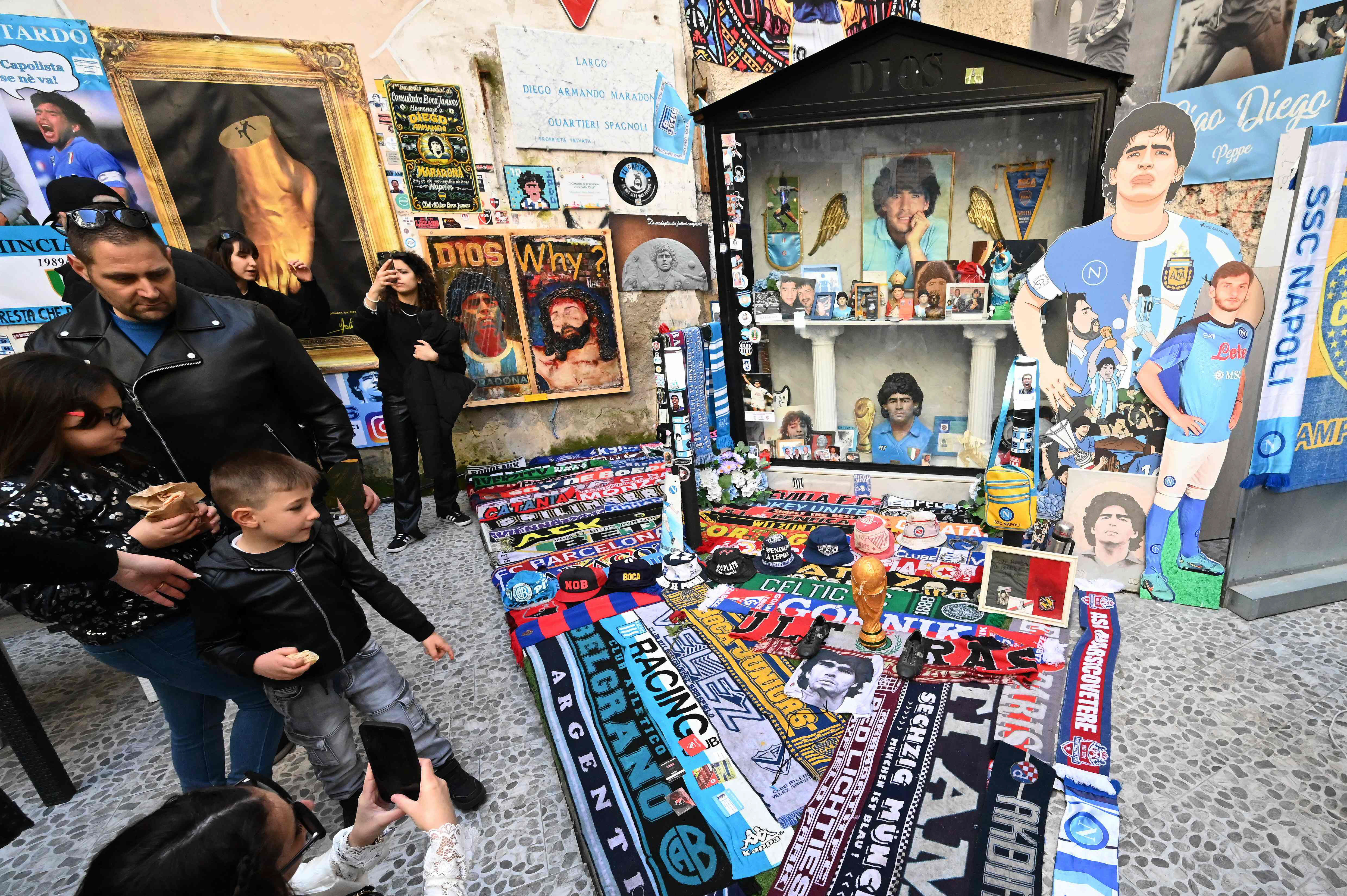 Napoli prepare for historic title, fans feud with owner | The Express Tribune
Read Time:
3 Minute, 16 Second

MILAN:

Napoli fans are preparing for their biggest party in over three decades but a row between hardcore supporters and club owner Aurelio De Laurentiis threatens to take the shine off the colourful festivities already beginning in Naples.
Napoli host Verona on Saturday on the verge of their first Scudetto since the days of Diego Maradona but while the city is starting to be decked out in blue and white, the atmosphere at recent home matches has been positively toxic.
The 4-0 home thumping at the hands of AC Milan this month was marred by fights breaking out in the stands between Napoli supporters as fans chanted "out, out, out" at hardcore "ultras" who decided to watch the match in near silence.
The ultras' protests are ostensibly about being prevented from bringing drums, flags and banners to the stadium to create an atmosphere worthy of a season in which Napoli should win Serie for the first time since 1990, with weeks to spare.
Coach Luciano Spalletti said in the aftermath of the 1-0 Champions League loss to Milan on Wednesday that he would resign if those supporters continued "to hold the team hostage" during next week's second leg of their all-Italian quarterfinal.
But this latest row is just another episode of an ideological feud with Rome-born film mogul De Laurentiis, who is distrusted despite taking control in 2004 when the club was bankrupt and bringing them up from the third tier to the brink of glory.
"Culturally De Laurentiis has always been a foreigner in Naples. He has never been seen in a good light, neither by the hardcore supporters nor by large chunks of the city in general," says Massimiliano Gallo, who runs the popular Napoli website Il Napolista.
"In Naples there is a sort of fundamentalist religion in which the city is a god that needs to be worshipped… But he has thrown in the faces of Neapolitans, and above all the top strata of Neapolitan society, the fact that he has taken their business and made money with it.
"This Scudetto is totally different to the ones won with Maradona. It's more Milanese, a result of planning and balance sheet management… the club has given a lesson in management to both Milan and Turin."
De Laurentiis' cold business philosophy, which goes against the ultras' philosophy, was highlighted by the cheapest seats for Tuesday's return leg with Milan being priced at 90 euros ($100).
"De Laurentiis says he wants to bring families to matches but he doesn't offer any discounts either for them or young people," says Emilio Coppola, a Napoli fan and a lawyer who works on supporter-related issues.
"It seems to me that he simply wants to select who goes to matches on the basis of their financial status."
Coppola says that a mass fight between Napoli and Roma fans at a service station in January, which cost both sets of supporters a two-month ban for travel to away matches, caused the latest flare-up of "a climate of tension" dating back to at least 2019 when supporters suddenly started being fined for not sitting in their assigned seat.
"The owner's way of seeing football is quite simply in stark contrast to that of the people who watch matches on the terraces… we're the only customers who are never right," he says.
"He calls the club 'the family plaything'; you could say that about a hotel, or a restaurant. But Napoli is about the passion of the supporters.
"Napoli isn't historically a successful club… if Napoli were to go down to Serie B or not do well in the league the team could end up being abandoned, because if those hardcore fans are pushed away you end up with a fan base that is only interested in results and doesn't support the team whatever the circumstances."