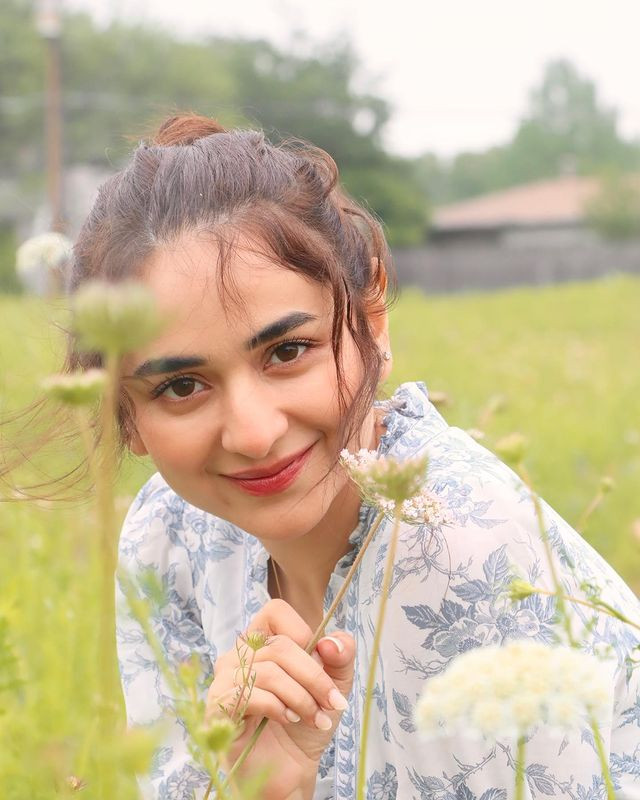 Yumna Zaidi to play cricketer in debut film 'Nayab' | The Express Tribune
Read Time:
4 Minute, 3 Second
Known for her stellar performances in hit drama serials Sinf-e-Aahan, Dil Na Umeed Toh Nahi, Bakhtawar, and Tere Bin, Yumna Zaid is now set to make her big screen debut with a sports drama titled Nayab.
Speaking to Independent Urdu, Zaidi said she has to be very careful shifting from one medium to another. "I'm very excited and also careful about the fact that this is my debut film," she said, adding that she is not nervous or anxious about the film right now but it might get overwhelming as the release inches closer.
Zaidi had been offered many films before Nayab as well but she had refused them and stuck to TV. But the "strong content" behind the Umair Nasir Ali directorial won her heart. "It's a brilliant story and it is meaningful. The whole team is trying their best to execute it the way it should be. Now that we've chosen good content, we want to do justice with it so that the audience also enjoys it when they go to the cinema."
The Tere Bin actor will be essaying the titular role of Nayab, a Karachiite who has a passion for cricket but is hesitant due to society's pressure and a lack of opportunities. "I believe that cricket is almost a craze in Pakistan but I don't know why or how but I had never picked a bat or ball before this shoot. I have been practising a lot. From the initial ABCs of cricket to practice matches on the final pitch, it's been a long process and I thoroughly enjoyed it."
She further added that she doesn't follow Pakistani cricket at all. "When you're trying to perfect an accent for a role, or representing a tribe in a drama, you have to work very hard to avoid stereotyping them. It's the same with this role. All of my attention, my focus has been here. I want to do justice to this character, to this girl who worships cricket."
Zaidi, who has won many awards for her performances on TV, was asked whether she thinks she can give the same competition to film actors after her debut film. "They are the same actors. Do we have different actors for the film? No, right? So, the competition is the same then."
She further elaborated by saying, "I don't think our film industry is at a point where we can even think about competition. It's our responsibility to make it progress; we're not at a point where I have to think about competing with someone. For now, we're all just making the industry strong enough for there to be competition."
Talking about her role, she said that Nayab is a "daring" girl who knows no bounds when it comes to her passion. "There are rivalries in the film as well. One thing I know for sure is that people will not only enjoy it but also relate with my character."
Zaidi's role in Nayab is a rather unconventional one for an actor's debut. Upon when will the audience see her in a "normal heroine's" role, she stated, "Whenever I will find a script that is worth it. If you see my work on television, I have attempted a variety of genres and roles – so much so that I don't think any other actor (that I know of) in this industry, has done that. My present and my past projects are full of multiple storylines and I'll keep the same approach for films as well."
According to a press release, Nayab is set in Karachi. It is weaved around characters that are real and relatable with cricket as the backdrop. It acknowledges that cricket resides in the heart of all Pakistanis, and deals with the disappointment of a brother who cannot attain his cricketing dream but instead supports his sister to achieve her dream despite their father's objections.
The director also commented on the film during a presser earlier this month. "Nayab is not just a film about cricket. It is a family film which has people from all walks of life. It is more than just a good sports movie; it features social themes, the family dynamics of Pakistani society, and ambitions of a young girl. A mixture of these themes makes it more entertaining and compelling," said Ali.
Apart from Zaidi, the cast also includes Javed Sheikh and Fawad Khan, the theatre actor who has worked in multiple web series like Churails. The script is written by the famed Laal Kabootar duo Ali Abbas Naqvi and Basit Naqvi. Nayab is slated for release later this year.
Have something to add to the story? Share it in the comments below.