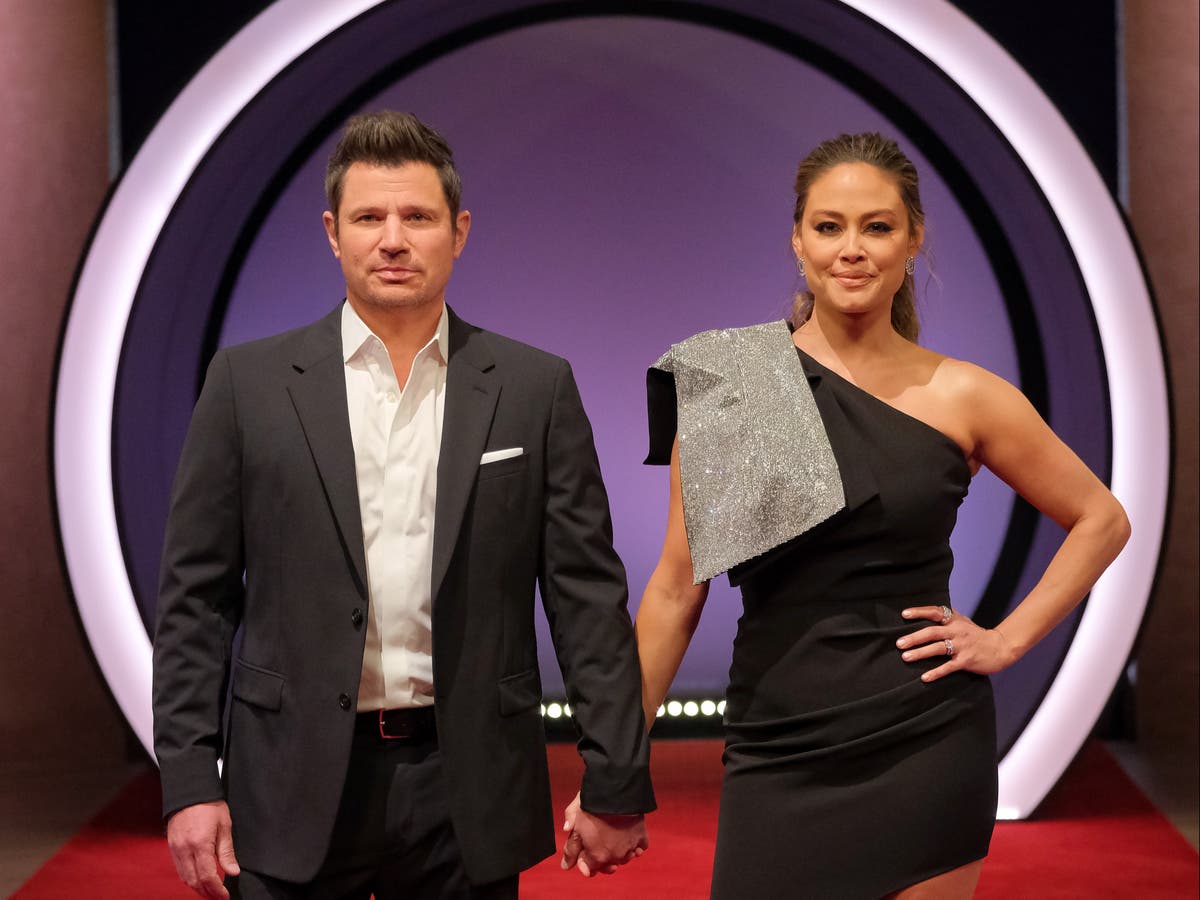 What you missed in the Love Is Blind reunion if you gave up on Netflix's livestream
Read Time:
6 Minute, 38 Second
The season four Love Is Blind live reunion special was full of drama from start – one hour late – to finish.
On Sunday 16 April, the Love Is Blind reunion special gathered together cast members from the fourth season of the hit reality dating series, as they sat down with co-hosts Nick and Vanessa Lachey to break down this season's drama and reveal their current relationship status. The reunion was to be live-streamed for Netflix's first-ever live reunion special, and its second live programming in history. At least, that's what viewers were promised on Sunday evening when they tuned into Netflix at 8pm ET, only to find a pesky loading screen playing lo-fi music with the words, "We're having trouble playing this title right now".
The streaming giant previously announced that the reunion special would be filmed live from Los Angeles, with subscribers able to join the stream via a waiting room 10 minutes before it started. Instead, fans found themselves waiting at least an hour for the reunion to begin.
The technical difficulties caused widespread anger on social media, as viewers shared how the issues messed up their Sunday night plans. Even fellow streaming platforms like Hulu, the Bravo network, and Netflix's sworn enemy Blockbuster poked fun at Netflix's embarrassing blunder. Netflix apologised for the technical issues – "To everyone who stayed up late, woke up early, gave up their Sunday afternoon" – and enlisted the Lacheys to go live on Instagram to entice viewers to stay tuned in, rather than switch over to HBO's Succession at 9pm.
When the show finally began, nearly 75 minutes late for some viewers, it was revealed that the live reunion special was no longer live. Instead, it would be taped live and available to stream globally the following day. Netflix promised it would be worth the wait.
Was it? The Love Is Blind season four reunion followed the same format as reunions past, but it was this episode's live component that made it the most dramatic, yet all around cringiest reunion since the series first premiered in 2020. Here's what you missed, in case you tuned in to watch the Roys battle it out on Succession instead.
The married couples were revealed
The reunion special revealed which couples are still married almost one year later. Perhaps season four was the most successful of the so-called social experiment, considering three happily married couples are still standing. Kwame Appiah and Chelsea Griffin, Zack Goytowski and Bliss Poureetezadi, and Brett Brown and Tiffany Pennywell put on a loved-up show as they gave updates on how married life has been since cameras stopped rolling.
Each couple also gave fans a tour of their homes. Since filming wrapped, Tiffany moved into Brett's Portland apartment where his sneaker collection has doubled in size. Chelsea and Kwame's panoramic-view-apartment was met with "ooo's" and "aahh's" from the live audience, as they showed off Chelsea's pink loveseats and their separate bathrooms. Zack and Bliss's montage included yet another unprompted singalong from Goytowski, and pictures of the three married couples going on triple dates together were displayed on-screen.
As for how they've blended their families since getting married, Chelsea revealed that she was welcomed by Kwame's mother with open arms, despite the fact that she didn't show up to their wedding. Meanwhile, Bliss's protective father was hesitant to give Zack his blessing leading up to their wedding day. But during the live reunion, she revealed that he's come around and he's even paying for their honeymoon vacation.
Jackie and Josh were a no-show
Much to both fans and Marshall Glaze's disappointment, Jackelina Bonds skipped the live reunion special. Instead, she sat down with Vanessa for a Zoom interview prior to the reunion. Joining her in the interview was her former pods fling, Josh Demas. It was revealed that the couple have been dating for a year, moved in together and are already parents to a dog. However, it was Marshall's facial expressions during the pre-taped segment that caught everyone's attention.
It was clear from the start of the reunion that Jackie and Marshall's breakup was nothing less than messy. From leaked text messages to Seattle Mariners sightings, fans already knew that there was tension amongst the former engaged couple even before tuning into the reunion. Jackie also claimed Marshall called her a "derogatory term" that was meant as a joke, but Marshall later clarified that he never used such a term and the comment was taken out of context. That's why Marshall issued a statement to Jackie during the reunion and called for an end to the drama: "The whole you-versus-me thing has to die immediately."
Irina apologised, but Zack and Bliss weren't having any of it
The reunion included a surprise appearance from season four's most controversial cast member, Irina Solomonova. The 26-year-old business owner joined the rest of the Love Is Blind cast on the couch to explain her so-called "mean girl" behaviour on the show. From the moment she walked on-stage, Irina was met with snickers and jeers from the audience – an obvious downside to a live reunion.
She offered apologies to her ex-fiancé, Zack Goytowski, and his wife, Bliss Poureetezadi. In one shocking moment, her former pods fling accused Irina of going on Love Is Blind not to find lasting love, but to become famous. As she tried to explain that some of her behaviour was caused by her mental health struggles at the time, Bliss accused Irina of sending her a DM in Mexico saying that she "dodged a bullet" by not getting engaged to her now-husband, Zack.
Micah reacted to Paul's motherhood comments
In the midst of fielding questions from Chelsea Griffin about her past connection with Kwame Appiah, Micah Lussier also came face-to-face with her ex-fiancé, Paul Peden, after she was rejected at the altar.
Micah explained that she was caught by surprise when Paul had said during the wedding episode that he couldn't picture her as a mother to his children. The 27-year-old marketing manager admitted that it was "the worst thing that could be said about me" because of her strong desire to have a big family. Paul apologised for his wording, saying that he "phrased that really unfairly towards her."
Instead, Paul said that he couldn't see them as parents together. Although he didn't feel a "nurturing presence" from Micah during their relationship, the two revealed that they briefly tried to give their romance another go after cameras stopped rolling, but it quickly ended.
Zack Goytowski also came to Paul's defense when he claimed that "there have been women who have told me in the conversations they have had with her, very rarely did she mention actually getting married to Paul."
What was going on in the control room?
Apart from the 75-minute delay, one of the most obvious technical blunders during the live reunion special occurred when Vanessa Lachey could hear a producer's microphone coming from the control room. Of course, fans had their theories about who was behind the mess.
The Love Is Blind season four reunion episode will be available to stream later today – most likely with all the technical difficulties, awkwardly long close-ups, and boos from the crowd edited out of the episode. While fans were in uproar over the hour-long delay, perhaps the flying accusations and cringeworthy moments during the live reunion made it worth the wait after all. Why change anything?