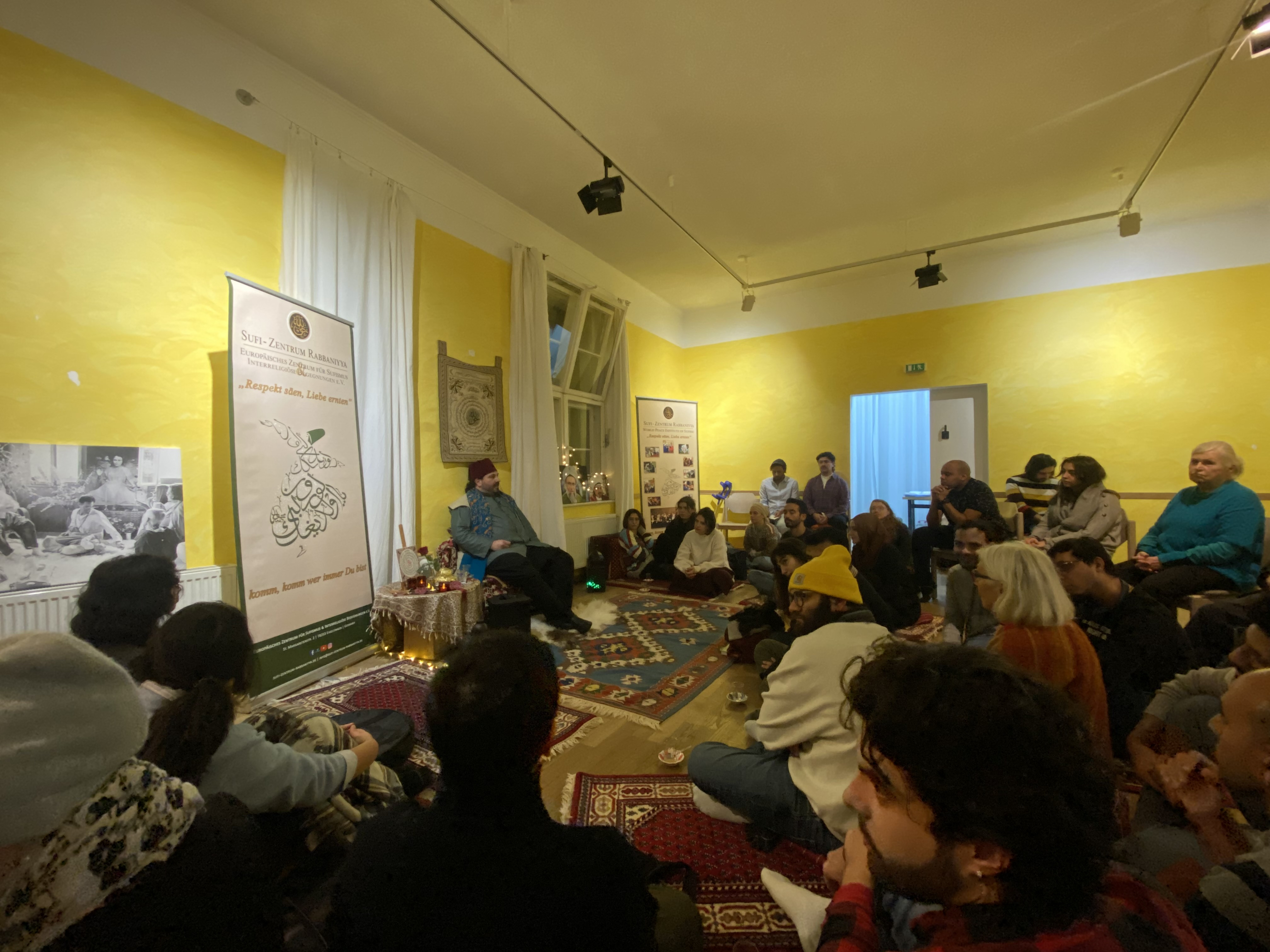 Sufi teachings to overcome Islamophobia in Berlin | The Express Tribune
Read Time:
9 Minute, 7 Second
PUBLISHED
April 16, 2023


BERLIN:

For Feride Funda G. Gencaslan, a Turkish expat in Germany and the chairperson of community space Sufi Zentrum Rabbaniyah in Berlin, Sufism is the only form of expression that aesthetically symbolises the teachings of Prophet Muhammad (PBUH) and the Holy Quran. With the aim of teaching people the "right conduct" for a happy and fulfilling life, Gencaslan says, Sufism has the ability to enlighten people on individual and collective levels.
Citing Baha-ud-Din Naqshband Bukhari, the eponymous founder of the Naqshbandi Sufi order which Gencaslan and her team follow and promote in their community space, Gencaslan says the way of their Sufi practice is essentially the association with the spiritual leader and community, the essence of which lies in the congregation and bringing people of all backgrounds together.
"We heard this from our master Mawlana Sheikh Nazim Adil An-Naqshbandi, that community is important for Sufism and at the same time for the development and healing of an individual," Genlaslan contends. "Sufism and our Sufi sheikhs' main spiritual mission has been to help followers recover from the illnesses and deficiencies of the heart."
Much of this spiritual enlightenment and the aim to break misconceptions about Muslims and Islam in western societies like Germany is the driving force behind Gencaslan and her Turkish-German husband Hajji Emrah's work at this Sufi centre.
Through monthly Sufi gatherings in the heart of the German capital Berlin, they invite people of all religions and backgrounds under one roof with the aim of spreading the message and teachings of the Sufi path of Islam. This is done through interactive, spiritual conversations — called sohbet — on life, emotional well-being and purpose from an Islamic perspective, followed by a prayer and meditation involving the traditional Sufi whirling. The attendees come from various nationalities and religious backgrounds.
The Ottoman tradition
Mawlana Hajji Emrah, who runs the Sufi evenings as a spiritual mediator and is the follower of Sufi Sheikh Nazım Adil An-Naqshbandi, feels that as devotees of Sufism they have a duty to share knowledge. The tradition comes from the Ottomans who, according to him, followed the path of God in an honest way and lived with other nations in harmony.
"We believe in welcoming everyone, regardless of religion or nationality. We have 41 Sufi schools or ways and the first way that is built from Prophet Muhammad (PBUH) and then through the first Caliph Abu Bakr (RA) and the fourth Caliph Ali (RA) is Naqshbandi," adding that the tradition is carried on from the Prophet (PBUH) till today through a chain called silsila. The dual lineage through Hazrat Ali (RA) and Hazrat Abu Bakr (RA) also lends this order the term "convergence of the two oceans".
As people of Turkish origin who live in Germany, Gencaslan adds that the ban on Sufi orders in 1925 by then president and founder of modern Turkey Mustafa Kemal Ataturk, did not quite separate them from Sufi teachings and compared to Muslim communities from other countries, as Turks, they feel a strong connection with their roots and Sufism. Sufism survived and today, by some of the Turkish expats, it is also being promoted in countries like Germany, where the largest Turkish community outside of Turkey resides. According to reports, more than three-million people with Turkish roots are based here in Europe's largest economic hub.
"During our childhood and youth, movies of Sufi saints such as Mawlana Rumi, Abdulqadr Geylani and Yunus Emre (may their sacred secrets be blessed and revealed to us) were shown on Turkish television," she contends, adding that sharing teachings about respect and tolerance from a Sufi perspective has been their motto. "The poems of Rumi and the songs of Yunus Emre never stopped transmitting in the Turkish-speaking world and thus their values have also been passed on, especially the respect and love for our Prophet Muhammed (PBUH)."
In 1994, Gencaslan met Mawlana Sheikh Nazim, a Turkish Cypriot Sufi and one the influential leaders of the Naqshbandi-Haqqani order, on his visit to Berlin for the first time and since then she has been trying to inculcate his teachings into her life through gatherings at Sufi meetups.
"Mawlana Sheikh Nazim hit my heart and my mind at the same time," she says. "He said Islam is beautiful. I try to follow in the footsteps of my Sheikh [spiritual leader] and have been involved with the Sufi-Zentrum Rabbaniyya when it was founded and since 2015, as the chairperson of the association."
On how a sohbet can truly enlighten people, Gencaslan responds that it "cannot be described, but must be experienced", citing fascinating effects of the Sufi tradition in terms of the healing power of sohbet and the individual recommendations of the spiritual leader to people who attend it.
"Mawlana Rumi said that a luminous candle is enough to illuminate millions of lightless candles," she encapsulates. "So too, just one sohbet can answer the many varied questions of all the hearts that attend it."
Perceptions in the West and Islamophobia
Gencaslan says the West should first understand and accept the fact that Sufism represents Islam and is not unrelated to it. Referring to Mawlana Jelaleddin Rumi's legacy, whose 750th death anniversary will be marked this year, she contends that Rumi, as a Muslim, taught and spread the message of Islam in a "mystical and poetic" way.
"Unless one has Islamic knowledge of the Holy Quran and the life and teachings of the Prophet (PBUH), one cannot properly comprehend and grasp a single line of his [Rumi's] poetry," she says, adding that all over the world, people know the name of Rumi and his poetry and even atheists quote him, yet they do not want to accept the simple fact that all his words on love, life and spirituality originated and took inspiration from Islamic teachings.
Born in what is now Afghanistan in the 13th century, Rumi was based in Turkey's Konya and was introduced to Sufism by his father, who happened to be a religious scholar. It was also Shams Tabrizi's mysticism that had an influence on Rumi's poetry.
The negative image of Islam
Touching the issue of Islamophobia, Gencaslan believes there is a growing fear of Islamisation in the West which is "incomprehensible" to practising believers. She says Islam teaches people to live peacefully with fellow human beings and creation as a whole, but the European media misconstrues and presents the narrative rather negatively by projecting the image of "oppression, coercion and terrorism" as outcomes of an Islamic way of life.
"Islamophobia is mainly shaped by the European media," she affirms, adding that the consequences affect peaceful Muslim populations when right-wing governments and parties alienate, "denounce and insult" them.
Gencaslan points out that the numbers speak for themselves. "Attacks on mosques and people with visible Muslim markings have more than doubled in Germany and Europe," she says while referring to the increase in the number of Quran-burning incidents. This has mainly to do with the political right-wing movement that is growing stronger and stronger in Europe. Muslims here feel abandoned by their governments and partly by the rest of the civilian population."
Rasmus Paludan, an extremist Swedish-Danish politician, is particularly notorious in this regard. Paludan has earned the reputation of harassing Muslim migrants in Muslim majority neighbourhoods and outside Turkish consulates besides making regular calls for burning the Quran in Scandinavian cities.
The more Muslim organisations come into the public eye with projects, education and information campaigns, according to Gencaslan — who herself is involved in initiatives like a sustainable iftar campaign during Ramazan — the more they are attacked.
"This development is neither democratic nor human," she adds. "After all, democracy is supposed to ensure the free development of the individual personality and freedom of faith. What we can see, however, is that the West is behaving contradictorily towards democratic principles with regards to Islam."
Gensaslan's viewpoint backs the statement of Abdassamad El Yazidi, Secretary General of Germany's Central Council of Muslims, who in his interview to the country's national broadcaster Deutsche Welle last month said that Islamophobia has entered the mainstream, become acceptable and can be expressed more openly in the country. A survey of 15,000 respondents, done by the German Council of Experts on Integration and Migration and presented in the fall of 2022, also found the prevalence of anti-Muslim and anti-Islamic attitudes held by one-third to one-half of the respondents.
Melting pot of cultures
To clear doubts and misperceptions about Islam, Gencaslan and her team of other Turkish-origin people, invite and communicate the spiritual teachings over tea and meditation in Berlin. The teachings and sessions are universal and have resonated with Muslim and non-Muslim visitors alike.
A regular attendee of Sufi gatherings and now one of the converts to Islam is Valentina from Italy. Formerly a catholic and then an atheist, Valentina has been participating in Sufi gatherings since October 2017. On discovering Sufism, she says, she immediately felt at home and a lot of her previously held prejudices about Islam were eliminated through it.
Currently, she helps to organise meetups and to translate verses from the Holy Quran and spiritual addresses of the speaker for non-German speaking attendees.
"Sometimes we meet privately in small groups to share our experiences, do Sufi meditations and drink tea together," shares Valentina. "Our small place becomes a little melting pot of all cultures. We share food and experiences, our deepest questions and sorrows with each other, regardless of whether or not we would meet the next time. We get so many different people with such diverse backgrounds, but all have one thing in common: we are all seeking something, want to know more, and have deep questions about the meaning of life."
Sufism a 'universal language'
Valentina believes Sufism can play a key role in building peace in an individual's private life as well as in this world.
She is impressed by Sufi master Sheikh Eşref Efendi's conferences on interfaith dialogue worldwide as a peace ambassador and even his interactions with common people on the streets where he speaks to people of different cultures and languages.
"Sufism helps us put God back at the centre of our lives and when we do it, suddenly we are no longer separated individuals, but we become brothers and sisters," says Valentina. "Sheikh Eşref Efendi can reach out to the Arhuaco indigenous people in Colombia, refugees in Cox's Bazar refugee camp in Bangladesh, as well as common people in Africa and India. That is for me is the evidence of how Sufism speaks a universal language common to all human beings: the language of love and wisdom."
Allia Bukhari is a freelance writer based in Berlin. All facts and information are the responsibility of the writer