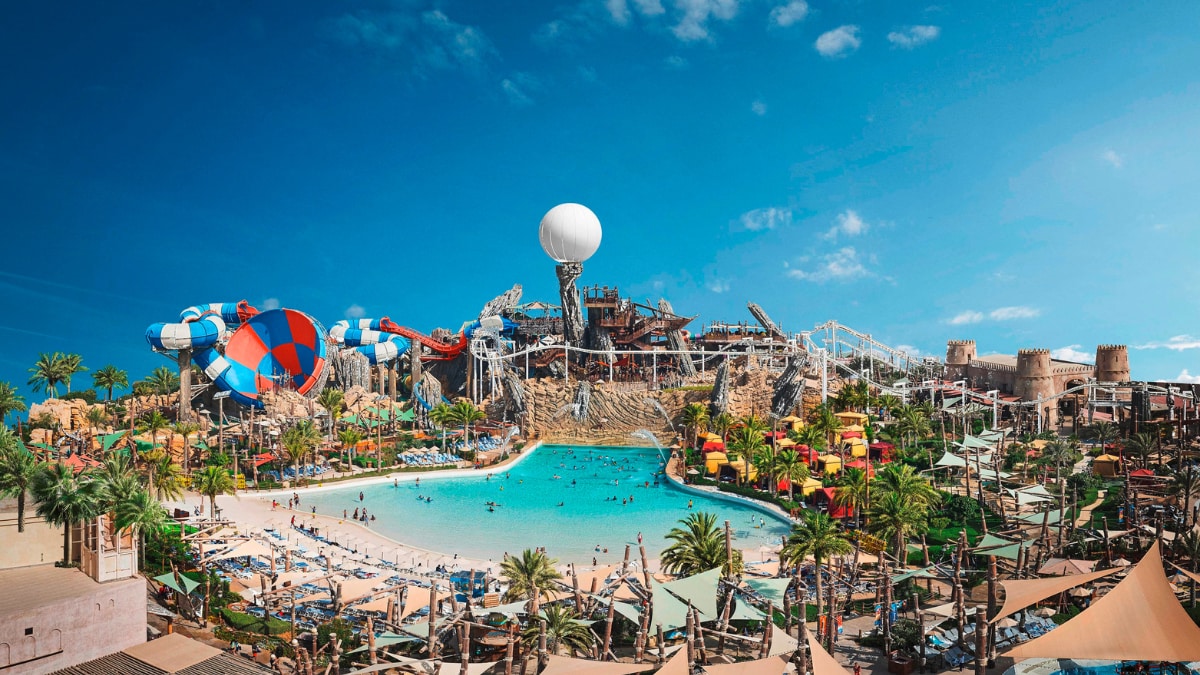 Planning a Last-Minute Vacation This Summer? Look No Further Than Yas Island Abu Dhabi
Read Time:
4 Minute, 40 Second
With its seamless visa processing, it's even more convenient to plan your international escape to Yas Island
From thrilling adventures to world-class entertainment, Yas Island has it all
Looking for a last-minute summer getaway? Look no further than Yas Island Abu Dhabi! This vibrant destination is the perfect place to enjoy a spontaneous vacation with your family. From thrilling adventures to world-class entertainment, Yas Island has it all. Whether you're seeking adrenaline-pumping activities or a relaxing time by the beach, there's something for everyone. With its seamless visa processing, it's even more convenient to plan your international escape to Yas Island. Join Bollywood celebrities who can't resist the charm of this destination, especially during grand events like the IIFA Awards. Get ready for an electrifying experience and immerse yourself in the excitement of Yas Island Abu Dhabi!
Experience the Ultimate Marine Adventure at SeaWorld Abu Dhabi
Recently opened on May 23, 2023, SeaWorld Abu Dhabi will be the region's biggest marine life theme park. It is not only the first SeaWorld Park outside the U.S. but will also be world's first-ever fully indoor SeaWorld Park. Spanning 183,000 sqm across five indoor levels, the Marine Life Theme Park will proudly be home to the world's largest and most expansive multi-species aquarium, containing 25 million liters of water and home to more than 68,000 marine animals including sharks, rays, and many more inspiring guests to explore and learn more about the endless diversity of the vast ocean. The park as a whole will feature over 100,000 animals and over 10 up-close animal encounters, as well as over 100 animal experiences and presentations.
SeaWorld Abu Dhabi will also offer 15 interactive experiences and rides and over 20 live characters and performances. The thoughtfully curated F&B and retail options are as distinctive and well-planned as the park itself, with SeaWorld Abu Dhabi delighting visitors with 17 enticing dining options and 13 fantastic shopping choices, ensuring a fun-filled and satisfying experience for everyone. Catering to diverse tastes and dietary needs, the restaurants will serve everything from quick bites to fine dining, featuring international, Middle Eastern, and Asian cuisine. Whether you're dining with family and friends, enjoying a romantic meal, or grabbing a solo snack, there's something for everyone at SeaWorld Abu Dhabi
Feel the Rush at Ferrari World Abu Dhabi
Rev up your engines and buckle up for unlimited joy at Ferrari World Abu Dhabi, the world's first Ferrari-branded theme park. Prepare yourself to experience the adrenaline rush of Formula Rossa, the fastest roller coaster on the planet, reaching speeds of up to 240 km/h. Explore the Ferrari-inspired attractions such as racing simulators, a state-of-the-art interactive museum, and thrilling rides for all ages
Enjoy Thrills and Spills at 'Water's Greatest Playground'
Cool off from the summer heat and dive right into the aquatic wonderland at Yas Waterworld Abu Dhabi! With its exhilarating slides, wave pools, and lazy rivers, this water park promises a day filled with non-stop fun. Get ready to challenge yourself on the high-speed Dawwama tornado slide, embark on the Bandit Bomber interactive water coaster, or simply float along the Al Raha River. Yas Waterworld guarantees a splashing good time for the whole family!
Rediscover Your Inner Child in the Spectacular Warner Bros. Universe
Step into a world of enchantment at Warner Bros. World Abu Dhabi, where beloved characters and iconic movies come to life. Hop on with Batman on a thrilling chase through Gotham City, meet your favourite Looney Tunes characters, and wander through the whimsical streets of Cartoon Junction. With a multitude of immersive rides, live entertainment, and interactive attractions, this indoor theme park assures an unforgettable experience.
 Reach new heights at CLYMB Abu Dhabi
With the world's widest indoor skydiving flight chamber and the region's tallest indoor climbing wall, CLYMB Abu Dhabi is the ultimate indoor skydiving and rock-climbing hub. Get your adrenaline pumping and add another feather to your cap by conquering two record-breaking experiences under a single roof. With expert supervision and safety guidelines in place, this ultimate adventure hub is suited for all levels – from absolute beginners to professional record holders.
Buzzing with a stellar selection of exciting events throughout the year
Yas Island Abu Dhabi, is the UAE's leading entertainment and leisure destination offers a multitude of activities, making it the perfect getaway for individuals of all ages. Get ready to rock out with the legendary Guns N' Roses, who will be performing on June 1, delivering an unforgettable night of epic tunes. For the little ones, the beloved Paw Patrol characters will be taking the stage from June 8 to 11, bringing joy and excitement to young fans
From fine dining to casual eateries, there's something to suit every taste. Savour delicious Emirati cuisine, explore international flavours, and experience world-class dining in exquisite settings. Whether you're seeking adrenaline-pumping adventures, family-friendly entertainment, or culinary delights, Yas Island is the ultimate destination that offers an unforgettable experience for all age groups. Moreover, you can book a Yas Island family package and enjoy tons of benefits, including free stay, play, and dining for kids by booking a stay at one of its participating world-class hotels all summer long. So, pack your bags, embrace the spirit of spontaneity, and get ready for an unforgettable getaway filled with excitement, relaxation, and cherished family memories. Yas Island awaits your last-minute adventure!