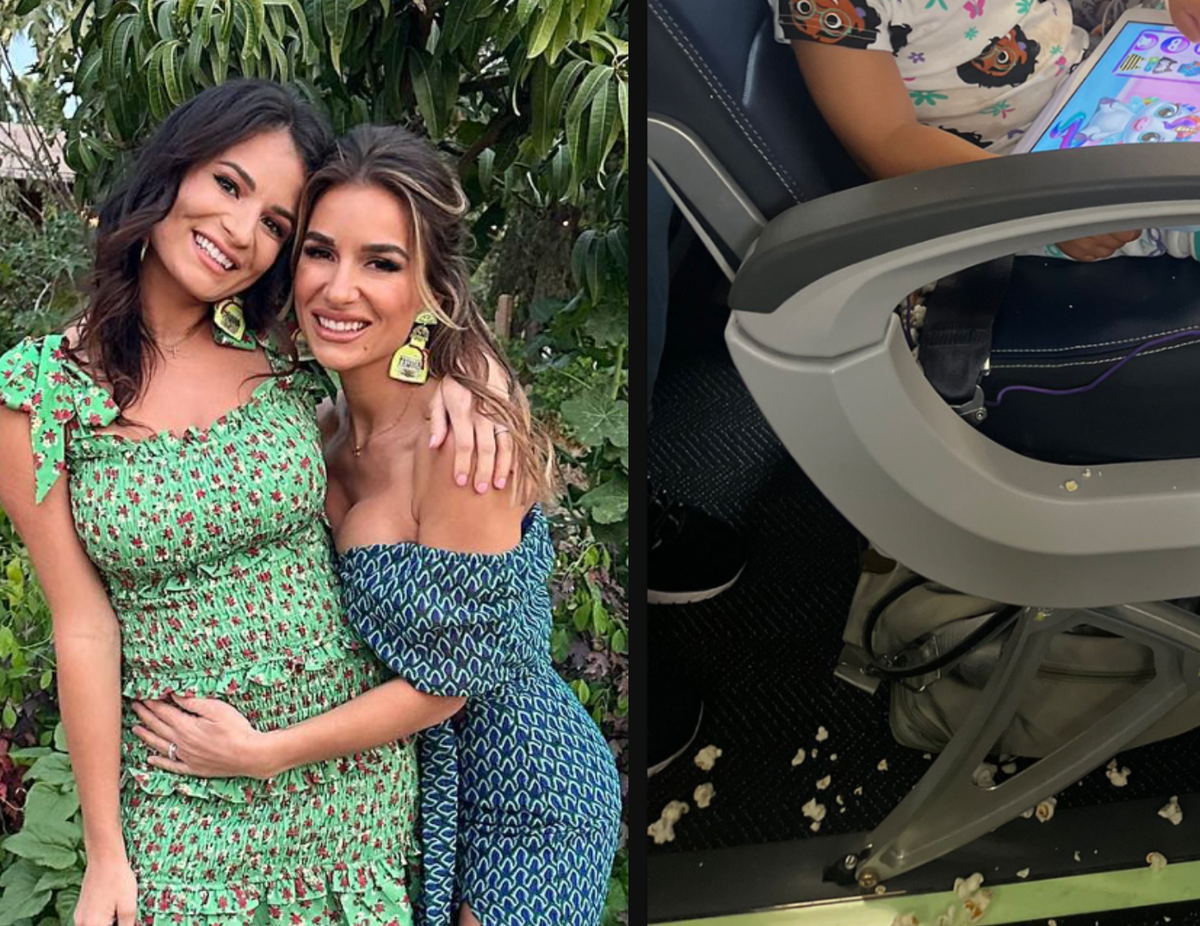 Jessie James Decker's sister mocks debate over daughter's spilled popcorn on plane
Read Time:
3 Minute, 33 Second
Jessie James Decker's sister, Sydney Rae Bass, has subtly mocked the viral debate over her daughter's spilled popcorn on a United Airlines flight.
Sydney poked fun at the incident on the plane, and the ensuing social media discourse, in a photo shared to Instagram on Monday. The post came after her husband, Anthony Bass, took to Twitter to claim that a United Airlines flight attendant asked his pregnant wife to "get on her hands and knees to pick up the popcorn mess" made by their two-year-old daughter, Blaire.
In her Instagram post, Sydney shared a photo of Blaire smiling at the camera as she sat on a kitchen counter holding a family-sized bag of Skinny Pop popcorn, an apparent reference to the popcorn-related drama that took place during the family's recent flight.
Sydney, who also shares five-year-old son, Brooklyn, with her husband, went on to praise her daughter in the caption. "She so cute," the mother wrote, along with a red heart eye emoji. Her husband also reshared the picture of Blaire on his own Twitter account.
In the comments of Sydney's post, many of her family members and followers applauded the reference to the debate over her daughter's spilled popcorn.
"The popcorn hazard," Decker wrote, while another joked: "Let your maid clean it up!"
A third wrote: "Are we supposed to carry handheld vacuums with us, too?!! Give mommas a break… especially ones travelling solo! Plane rides are hard enough with little ones."
Multiple people went on to defend Sydney, with some are claiming that the flight attendant was wrong to request she pick up the popcorn the toddler had dropped.
Another added: "I  love it! I'm really sorry for what you experienced, Sydney. If I would have been there I would have gladly helped you. People need to do better. We need to be better. Be the change you want to see in the world. It's that easy!"
When Anthony, a pitcher for the Toronto Blue Jays, first shared his tweet on Sunday, multiple celebrities weighed in, including Chrissy Teigen. In her tweet, she noted how the MLB star's remarks about United could ultimately stir up a conversation online.
"Oh man this is exactly exactly the kind of tweet twitterers love. God speed, friend," she wrote, before adding in a second tweet: "Also: wet paper towel."
On her Instagram Story, shared on Sunday, Decker shared more details about the United Airlines flight and defended her sister.
"As you know, she is five months pregnant, high risk, and also travelling alone with her two small children," the singer wrote in the since-expired post, which has been shared on Twitter. "Blaire accidentally spilled some popcorn in the aisle and the flight attendant came up to Sydney with a trash bag, and a wet wipe, telling her the captain wants Syd to clean up every drop."
She went on to describe how Sydney was "on her hands and knees" during the flight trying to clean up the popcorn.
"[She was] crying in the aisle, completely humiliated and exhausted, with her children. While everyone else watched," the "My Cowboy" singer added. "Way to go United."
People have also claimed that Sydney shouldn't have been asked to pick up the popcorn after learning that United Airlines was the one that gave the children the snack, according to Anthony.
Others have claimed Sydney's children should have cleaned up the popcorn, instead of her or the airline staff.
"Oh for the love of God. They're two and five, a perfect age to give them a small job of cleaning up after themselves," one person wrote. "It's called a life lesson and family teamwork."
On Sunday, Anthony took to Twitter to share that he's been in contact with the airline regarding the incident, writing: "Thank you everyone for the support. United Airlines is taking care of matters with the flight attendant internally".
The Independent has contacted United for comment.