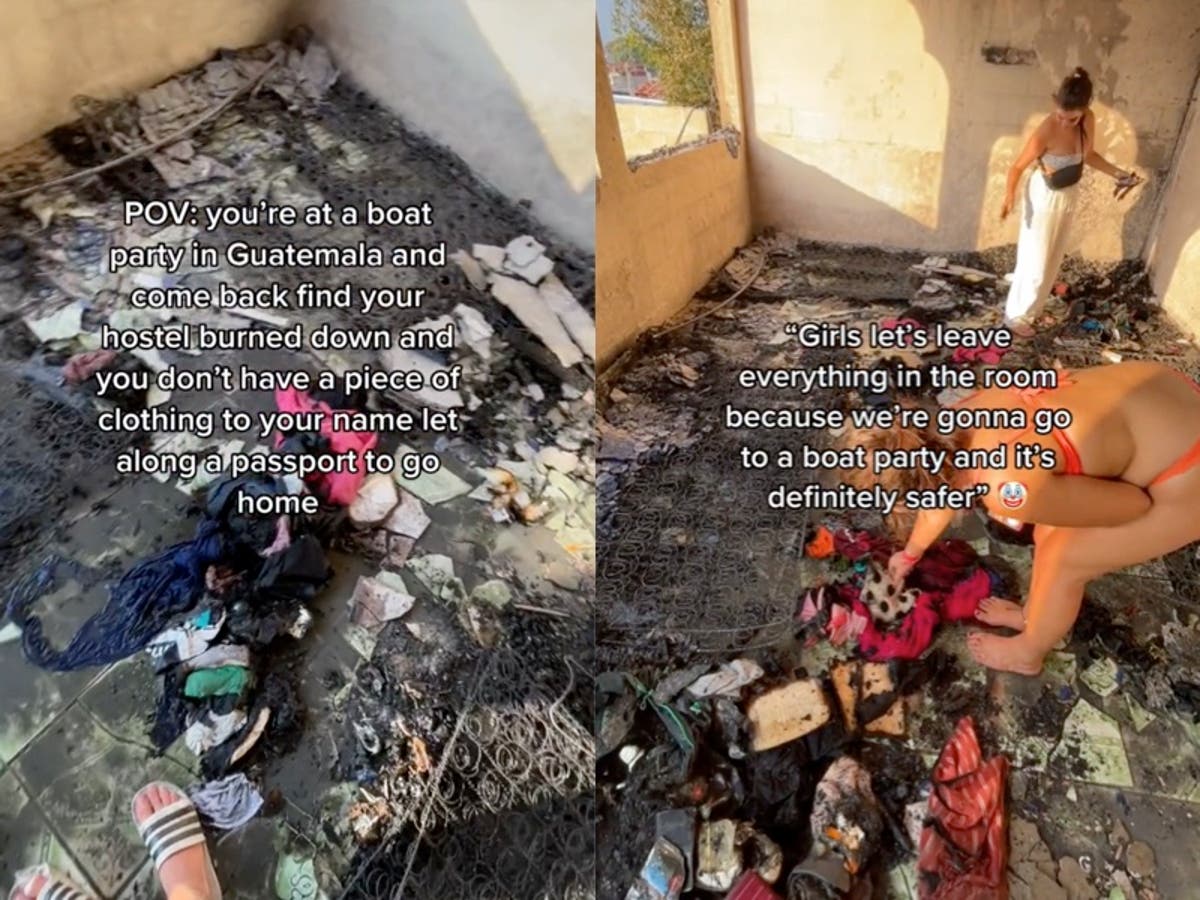 Influencer films travel nightmare as hostel fire claims luggage and passports
Read Time:
3 Minute, 7 Second
A group of travellers was shocked to discover all of their belongings had been destroyed after their hostel in Guatemala had burned down, leaving them with no clothes or passports to get home.
Mafalda Vidigal, a Portuguese travel influencer who goes by @mafaldavidigal on TikTok, went viral on the app this week when she shared footage of the wreckage in a video with nearly 20 million views. The vlogger said she was attending a boat party with friends in Guatemala when they returned to find their Mandalas Hostal in San Pedro la Laguna had burned down.
"POV: you're at a boat party in Guatemala and come back [to] find your hostel burned down and you don't have a piece of clothing to your name let along [sic] a passport to go home," she wrote over the video, which showed the hostel bedroom covered in ash.
In a separate video, Vidigal and her friends were seen dressed only in bikinis as they rummaged through what was left after the fire. She explained that they thought it was "safer" to leave their items in their accommodations, including their passports, writing: "'Girls, let's leave everything in the room because we're gonna go to a boat party and it's definitely safer.'"
The women were forced to shop for brand new clothes "in the middle of [their] backpacking trip" because they only had "a bikini and a phone to [their] name".
Vidigal shared with followers in a follow-up video that they were able to obtain temporary identification from an embassy. "Luckily, we are EU citizens so we went to the Spanish embassy since there wasn't a Portuguese embassy and they gave us this day document, which we can only use once," she said, as she filmed herself boarding a plane. "We're now going to the closest Portuguese embassy and hopefully getting everything sorted."
She joked, "At least we didn't have to pack because that's literally everything we own," as she filmed a small plastic bag with only a few items inside.
As for the hostel, a GoFundMe campaign for the Mandalas Hostal located on Lake Atitlan in San Pedro la Laguna showed pictures of the damage from the fire. A volunteer worker who set up the fundraiser revealed that the building was "severely damaged by a fire" but everyone got out safely.
On 20 May, the fire spread from the property next door, demolishing several rooms and burning the top two floors of the building completely. "The team is currently working closely with the guests who were staying at the hostel when the fire took place to sort out any personal belongings that may have been lost from the fire," the worker said. "Fortunately, they were able to evacuate everyone safely and none was physically hurt."
As of Friday (26 May), the hostel has raised $1,900 towards its $11,000 goal.
In a TikTok comment, Vidigal shared that one of the backpackers she was travelling with was in the hostel at the time of the fire, but "she got out in time".
Many other TikTokers in the comments section shared their support for Vidigal after losing all of her belongings. "Oh my god I'm so sorry," wrote one user, while another said: "I know it doesn't seem like it now, but you'll laugh about it one day if everyone is okay. I hope everyone is and the hostel pets, too!"
The Independent has contacted Mafalda Vidigal for comment.