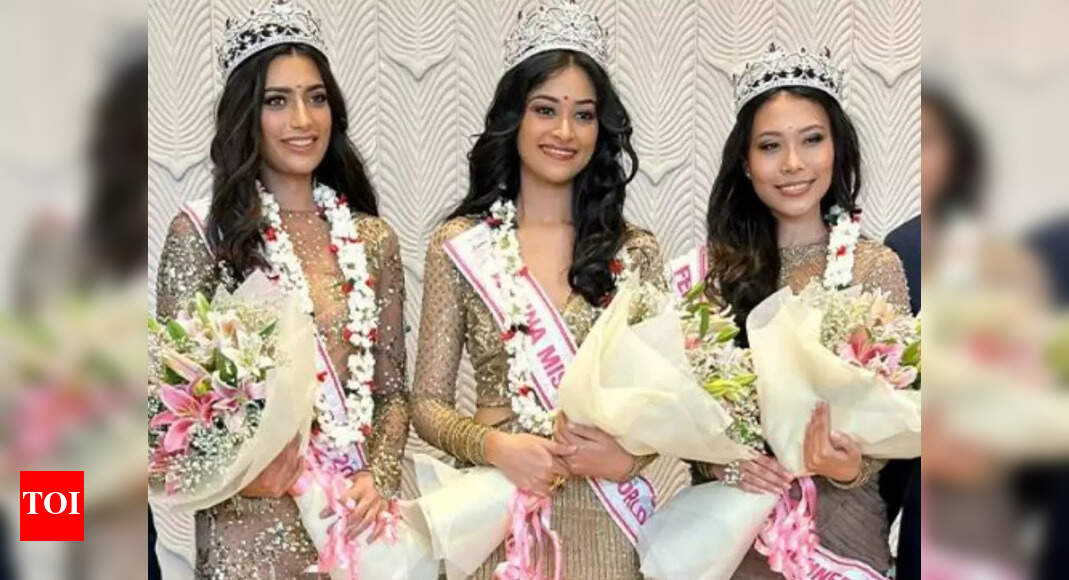 ETimes Exclusive: First interview of Femina Miss India 2023 winners Nandini Gupta, Shreya Poonja and Thounaojam Strela Luwang – Times of India
Read Time:
6 Minute, 13 Second

India's most coveted beauty pageant, Femina Miss India held its latest edition recently and India got its three new beauty queens who will now represent India at the international stage. ETimes caught up with Femina Miss India 2023 winners Nandini Gupta, Shreya Poonja and Thounaojam Strela Luwang in an exclusive chit-chat, where they spoke about the pageant, life in general and more. Here's an excerpt from the interview:
Question: Congratulations on winning your crown, tell us what was your first thought after you won, what was going on in your mind? Nandini Gupta: Well, it was mostly a feeling that actually came out of nowhere. Is this really happening? Like, you know, a dream of so many years and actually coming true that night. It was a magical moment for me, you know, confetti flying up, people cheering. It was the last evening of the whole 40 day pageantry. And yes, it was like a moment.
Shreya Poonja: Well, it took a couple of seconds to actually realize that they've announced me and my reaction, like you were previously discussing, was I was ready, you know, there and I couldn't hear the name because I was so overwhelmed with the feeling of being in the top six and I'm clapping. There's been an announcement and the crowd is cheering. I could hear loud cheers and I just started to clap. And then everybody on stage turned towards me and I heard somebody saying Delhi and that's when I realized two, three seconds later that, OK, probably I won and that's when I took the step and walked towards the stage and I think the feeling was too good. It was ecstatic, magical, truly like, you know, living your dream.
Question: Strela, what was the first thing that you did after winning the crown? Thounaojam Strela Luwang: After winning the crown, I cried. That was one of the purest forms of emotion that I could really bring out of myself. And those tears were something very pure, you know, dreams. A dream that I really thought was impossible for me to dream of. And then it was coming true right in front of me. It's unfolding. And I think those emotions were really pure.
Question: Talk to us about the after party that you had post the pageant?
Nandini Gupta: Well, that night was magical, to be honest. I won't lie on that fact. All three of us were in our own joys, celebrating each other, first of all, and then celebrating ourselves. Also, there was a proud moment on each other's parents that, OK, their daughters have done something, they have made them proud, in fact not only them, but the whole state. I come from Rajasthan and people now think of me as their inspiration. So after the pageant, it was more of, you know, hugging each other. Like it was a time that you digested the feeling that, OK, this finally happened.
Question: How did your family react?
Shreya Poonja: I could see my parents, you know, from afar. And as they made their way to the crowd, I saw Nandini's parents there before my own parents.
Nandini Gupta: And to be honest, I never saw my dad crying. And that was the time that I saw him cry. And my mother always, you know, she had the dream for herself and she lived it through me. But my dad, you know, dads are always set aside. They don't compliment you much. That day, my dad hugged me for the first time in my life. He had tears in his eyes. And that made me feel like I guess I've made him proud.
Question: Tell us about the kind of preparation that went into those 40 days, because I'm sure there were many challenges and a lot of hard work.
Thounaojam Strela Luwang: Yes, a lot of hard work, actually. We had call times in the early morning and then we would come back very late. Of course, our team made sure that we had enough sleep and enough food for us to be able to perform. However, you know, sometimes when you're mentally stressed, you also have those challenges that you need to face alone in your own bed. So we had to deal with a lot of that. But on the flip side, we learned a lot of things that I felt were necessary, not only for the beauty pageant, not only for this pageant, but for life as well. I got to learn a lot from Shreya. I got to learn a lot from Nandini, from all my 29 sisters. And I think that was something that I would cherish and take for my whole life.
Question: Strela, you're one person who has been talking very openly about mental health. What is it that makes you speak about it and why is it so important for all three of you?
Thounaojam Strela Luwang: So the thing is when I was about 8 or 9, I got epilepsy. But, you know, when you are really struggling and the people around you have this conception that you're doing this for attention, very sadly, I had to deal with that. And then people coming up to me and making jokes when I was having the seizure, their children making the same act in front of me and then them laughing, which, looking back, I think it was just childish thought for me to really be affected by that. But then again, you know, me as someone who has faced that, I would understand what people who actually are facing right now, because I have seen what they've seen. The ceiling of your bedroom when you lie immobile in your bed, it's such a huge world in itself. And I have faced the fear that they are facing right now. And I think it's very important for someone to really speak up about it. I was shy when I first opened up, very, very shy. And then I felt that people would, you know, start to say that, you were disabled for a while. And then, to be discriminated against. But then the response that I got till now was only on the positive side. So I think it's very important for us to really speak up about this thing.
Question: Talk to us about the future. Films, entertainment, what are you looking forward to?
Shreya Poonja: Well, a lot. In my introduction on the finale night, I had been working and the camera in the most true sense is the love of my life and everything I want to do in life has to do with the entertainment industry as a whole. And there are plans to also, you know, someday have my own entertainment firm. But for the time being, I'm really looking to diversify my skills, learn, get the right opportunities, obviously Bollywood.
Question: And if given a choice, if you were to star in a film with an actor, which actor would you like to make your debut with?
Shreya Poonja: So I think maybe Aditya Roy Kapoor and Shah Rukh Khan. Like, come on, who doesn't want to be in a SRK movie?
Nandini Gupta: Well, it would be Shahid Kapoor and Ranbir Kapoor. And now after the finale, Kartik Aaryan.