Alaskans Love Our Coffee… and Need Our Sleep. – Alaska Sleep Clinic
Read Time:
2 Minute, 53 Second
With caffeinated beverages consumed the most in the United States, and coffee as number one, it is important to keep in mind how we consume a cup of joe. Although many start their day with coffee for an extra boost of energy, many drink cups throughout the day. Making smart choices with the roast and brew can impact your sleep to a healthier life.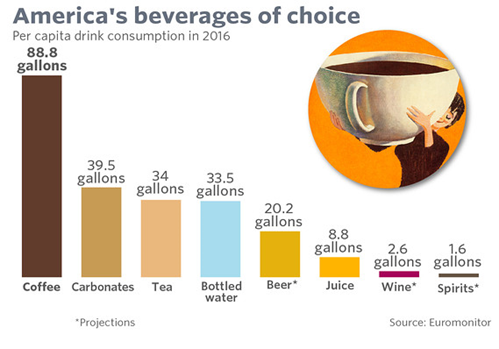 Quality Rest
Sleep Health, the Journal of the National Sleep Foundation, indicates the following as quality
restful nights:
Sleeping more time while in bed (at least 85 percent of the total time)
Falling asleep in 30 minutes or less
Waking up no more than once per night
Being awake for 20 minutes or less after initially falling asleep
A recent study in The New England Journal of Medicine found that drinking even one cup of coffee per day might make you sleep less. This isn't a secret to those who might contribute the time they drink a cup of coffee to their insomnia. However, a type of heart palpitation has also been found to be a higher risk.
"The big picture finding is that there isn't just one single health-related consequence of consuming coffee, but that the reality is more complicated than that," said the study's lead author, Dr. Gregory Marcus, a cardiologist and professor of medicine at the University of California, San Francisco.
To keep in check, understanding the caffeine count in coffee drinks is important, especially for those at higher risk of heart-related conditions.
Types of Coffee
According to Nescafe, while "an espresso is also a black coffee, a black coffee cannot be called an espresso unless brewed by forcing hot water at high pressure through the finely ground coffee." Therefore, espresso is not a type of coffee bean or roasting style.
A latte is a milk coffee. Starting with one or two shots of espresso, steamed, milk, and topped with a layer of frothed milk, lattes normally contain more caffeine than coffee.
A cappuccino is rich, but not as acidic due to the steamed milk. The espresso is not mixed in giving a strong flavor. Originating from Italy, the cappuccino is a perfectly balanced espresso versus the macchiato which contains a higher ratio of coffee to milk.
The Americano originates when American soldiers were stationed during World War II in Italy. With a hope to recreate drip coffee back home and a dislike for strong espressos, icing the strong brew. Today Americanos are served hot with traditionally only 1/3 espresso.
Arabica and Robusta beans are among the most popular varieties of coffee beans with Arabica grown at high elevations producing a milder, aromatic flavor. Robusta beans are higher in caffeine and bitter so stay clear if you are searching for less jitters.
According to Healthline, one study found that a "sample of light roast brewed coffee contained about 60 mg of caffeine, while the same amount of dark roast contained 51 mg of caffeine." Research has shown that the benefits of moderate coffee consumption may protect against Alzheimer's disease. However, it is important to keep the caffeine content in check along with how much cream or sugar is added per cup.
If you find yourself a coffee drinker and notice insomnia from possible caffeine intact, you may need a consultation with a sleep study medicine professional. Call Alaska Sleep Clinic today for your free sleep assessment.