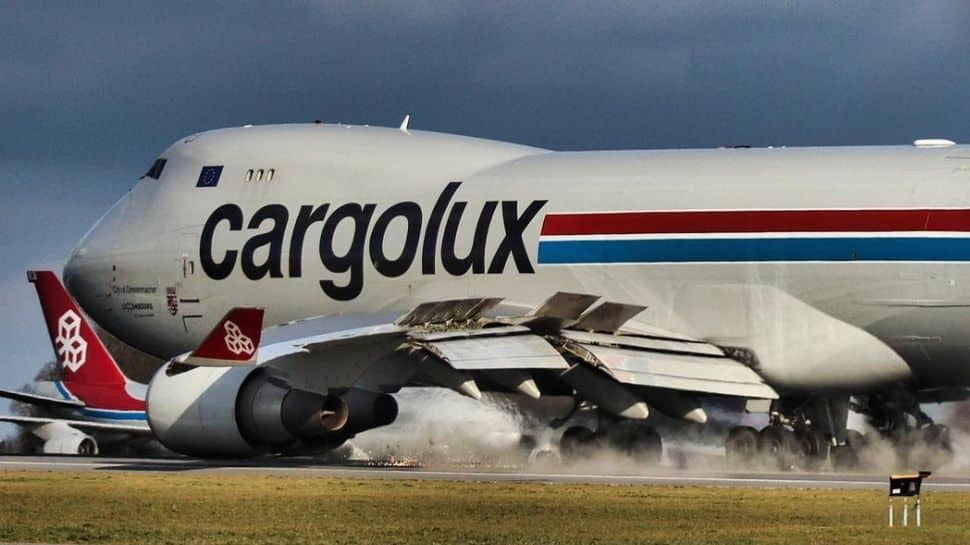 Watch: Cargolux Boeing 747 Suffers Engine Damage While Landing, Lands Safely In Second Attempt
Read Time:
2 Minute, 8 Second
A Cargolux aircraft flying from Dubai Al Maktoum International Airport to Luxembourg Findel Airport got in a minor accident at its destination airport. The plane sustained damages after one of its engines touched the runway during the landing. Noticing the incident, the pilot initiated a go-around and landed the aircraft safely, avoiding a major accident. It is to be noted that the aircraft in the incident is a Boeing 747-400F.

The incident with flight CV-7545 occurred on April 15th after the plane completed its flight from Luxembourg to Dubai. As per reports, after the plane scratched the runway, the pilot aborted the landing to try again. Before attempting another landing, the pilot reached 4,000 feet. The second attempt was successfully completed at around 18:45.
Also read: Watch: Scary Turbulence Captured On Camera As Drinks Spill Inside Flight Cabin
Many people on the airport premises witnessed the incident, and the video of the plane sustaining the damage was shared on social media platforms. In the video, the plane's left wing can be seen bending while the aircraft's engine grazes the ground. Realising the problem, the pilot can be seen aborting the landing.

Cargolux flight CLX5BP sustained damage to its left engine casing during landing at Luxemburg forcing the pilots to go-around…

pic.twitter.com/1lnp0JcRNN
— Flight Emergency (@FlightEmergency) April 16, 2023
As per Simple Flying's report, no personnel present on the ground or on the plane was injured in the incident.

According to Flightradar24, the 14-year-old Boeing 747-400F(ER) with the registration LX-ECV was originally flying from Luxembourg to Taipei on a return flight when the aeroplane was diverted to Dubai before continuing to Europe. Furthermore, the aircraft still needs to register for another flight after the incident. The aircraft will be allowed to take a flight once the technical team clears the Boeing plane. 
Cargolux, one of the biggest cargo carriers in the world, maintains a fleet of 30 Boeing 747 aeroplanes and takes advantage of its strategic location in Europe between Germany, France, and Belgium to offer its cargo services to customers around the globe.

The cargo airline operates out of Luxembourg's Findel Airport and travels to 90 different countries. Cargolux Italia, one of its subsidiaries, flies out of Milan Malpensa Airport (MXP) the majority of the time. It runs an extensive trucking network to more than 250 locations throughout the world in addition to its aviation operations.